Detectie liniara termica
Detectie timpurie eficienta
Ori de cate ori utilizarea detectoarelor conventionale de tip punct este dificila din motive tehnice sau estetice, problema protejarii oamenilor, a bunurilor si a mediului devine decisiva. Gama de aplicatii in care se poate utiliza sistemul de detectie liniara termica acopera incaperile sterilizate, unde sunt detectate chiar si cei mai mici aerosoli de fum aproape neobservabili, precum si cladirile istorice si culturale pana in zone extreme cu surse de mediu de interferenta, cum ar fi umiditatea, temperaturile ridicate si aerul contaminat.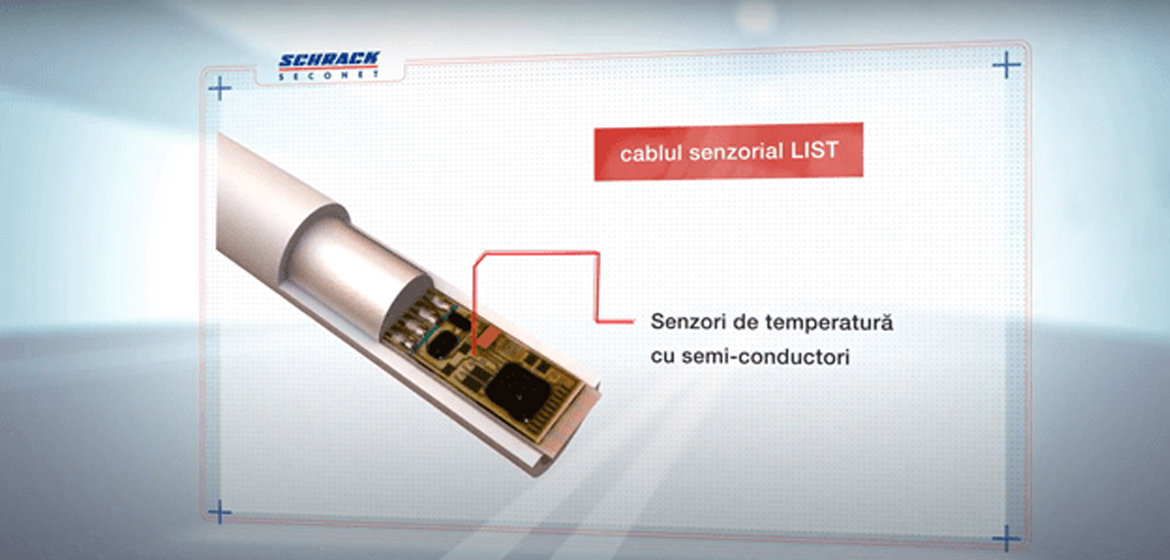 Detectie pentru transporturi si industrie
Datorita rezistentei sale excelente fata de conditiile extreme de mediu, sistemul LIST este utilizat oriunde deoarece detectoarele punctiforme clasice nu sunt capabile sa garanteze o protectie optima impotriva incendiilor.
Leading equipment and technologies
Cablul senzorului contine puncte de masurare a temperaturii extrem de sensibile si adresabile individual. Distanta senzorului in cablu este de asemenea liber selectabila. Rezolutia ridicata a senzorilor de la 0,1 ° C permite evaluari extrem de precise.
Datorita ecranarii EMC, invelisului exterior ignifug si un dispozitiv de descarcare integrat, cablurile sunt imune la factorii de interferenta si sunt extrem de durabile. Sistemul d-LIST cu cablu senzor SEC 15 este utilizat in principal in instalatii industriale si pentru monitorizarea zonelor mai mici. Cu diametrul sau mai mic, sistemul se potriveste cu usurinta in traseele de cabluri sau benzile transportoare si ofera, de asemenea, alerte de alarma precise pentru producatorii de alimente, industria chimica si centralele electrice.
Sistemul LIST cu cablu senzor SEC 20 asigura siguranta maxima in tuneluri si zone mari. Este folosit pentru a monitoriza sectiuni de pana la 3.200 de metri.
Beneficiile utilizarii unui sistem de detectie liniara termica sunt: detectarea exacta a alarmei; cea mai rapida transmisie posibila de alarma datorita senzorilor foarte sensibili; pragul individual de alarma poate fi configurat pentru fiecare zona de detectare; instalare simpla, costuri de intretinere optimizate; certificare VdS conform EN 54-5; certificare VdS conform EN 54-22, clasa A1N, A2N.
Full services. Turnkey projects
Pentru Detectia Liniara Termica, DEFLAMMO ofera o gama completa de servicii: Consultanta, Proiectare, Autorizare IGSU, Procurare echipamente, Instalare, Programare, Maintenance and Technical Support.
DEFLAMMO can design and install fire detection systems that correspond to different standards: IGSU, VdS, FM.
Un rol aparte il acordam procesului de integrare a sistemelor de detectie incendiu cu alte sisteme si instalatii ale cladirilor: Supraveghere Video, Control Acces, Sisteme Integrate de Securitate (PSIM), Alarmare Vocala, Stingere Incendiu, BMS.
Reference works
De-a lungul timpului, compania noastra a implementat numeroase proiecte de Detectie Incendiu in diverse domenii de activitate, dintre care putem enumera: Universitatea Politehnică București – Campus,  Universitatea Politehnică București – Precis, Universitatea Titu Maiorescu Bucuresti, Aurora Shopping Mall, Galeria Mall Buzau, Galeria Mall Suceava, Mega Image, ParkLake Shopping Center Bucuresti (peste 11.000 de elemente), Expo Business Park Bucuresti, Floreasca Business Park Bucuresti, Hermes Business Campus, Multigalaxy, Nusco Tower, Iulius Town Timisoara, Unirii View, Liberty Galati, Odu Sibiu, Sofidel  Calarasi,Wenglor Sibiu, CF. Falciu, CF. Vicsani.
On the same topic

Widget not in any sidebars

Doriti mai multe informatii despre sisteme de detectie liniara termica?
Specialistii nostri va stau la dispozitie.