Inert Gas Extinguishing
Solutions for sensitive areas
Inert gas fire extinguishing systems are a category of fire extinguishing systems, and they are used especially in areas where there are numerous electrical equipment that ensures the uninterrupted functioning of the organization.
In other words, inert gas extinguishing systems are used in data centers, technical rooms, communication centers and server rooms to protect areas with servers, area for data storage, electrical panels. But the domains in which they can be used are not limited to that of IT cameras, but they can also be used in archives, museums, libraries, art galleries, collections or warehouses, where there are valuables, which should not be destroyed in case of a fire (as it happens if the water extinguishing system is used).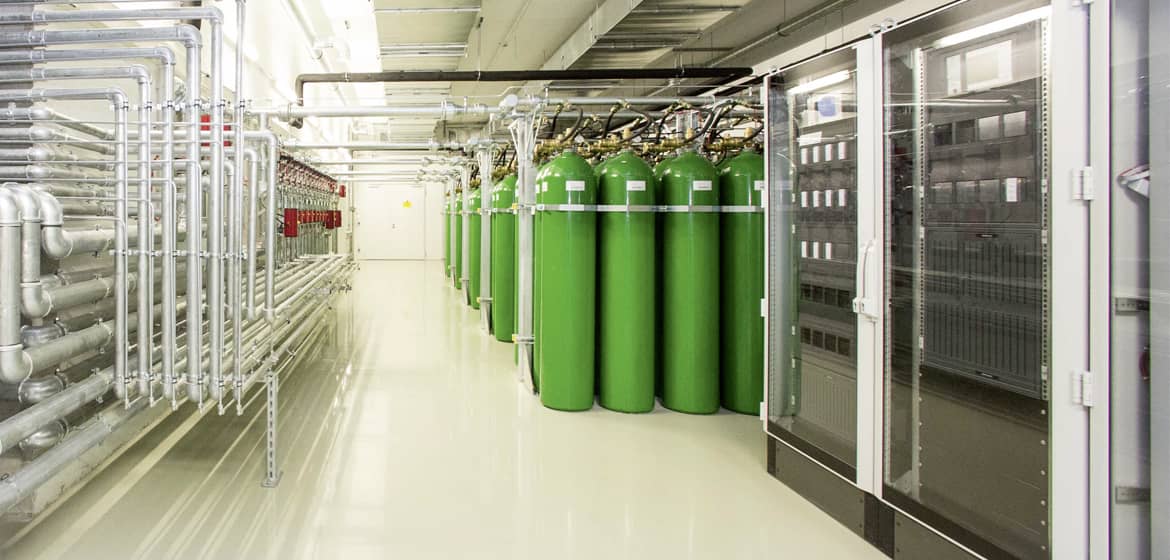 Efficient and clean extinguishing
The principle of operation of inert gas extinguishing systems is to reduce the oxygen level so that the combustion process is stopped.
The main inert gases used as extinguishing agents are: IG 100 (Nitrogen / Nitrogen), IG 541 (Inergen, contains Nitrogen, Argon and Carbon Dioxide), IG 01 (Argon) and IG 55 (contains Nitrogen and Argon). These natural gases are in the atmosphere, they are colorless and do not conduct electricity..
In case of occurrence of a source of fire, inert gases do not decompose into toxic elements, not representing a threat to the health of employees.
Leading equipment and technologies
For the supply of inert gas extinguishing systems, our company collaborates with Wagner.
Inert gas extinguishing systems are ideal for occupied spaces, because the escape routes remain visible even during the unloading of extinguishing agents, such as art galleries, museums, libraries, where there is a large flow of people.
Another important benefit of inert gas extinguishing systems is the fact that after using them are not residues and there is no need for anyone to clean up that area.
Also, at the time of discharge, the inert gases generate a lower thermal shock than the one produced by other clean extinguishing agents, this means that the temperature does not drop sharply in the protected area. In addition, the cost of recharging the cylinders with inert gases is extremely low.
Full services. Turnkey projects
For Fire Detection by Aspiration, DEFLAMMO offers a full range of services: Consulting, Design, IGSU Authorization, Equipment supply, Installation, Programming, Maintenance and Technical Support.
DEFLAMMO can design and install fire detection systems that correspond to different standards: IGSU, VdS, FM.
Reference works
Over time, our company has implemented numerous fire extinguishing projects in various fields of activity, among which we can mention:, Polytechnic University of Bucharest – Precis, University of Agricultural Sciences and Veterinary Medicine, Generali Romania, WNS Global Services Romania, ParkLake Shopping Center Bucharest, Liberty Galati, Sofidel Calarasi,
On the same topic
Do you want further information about inert gas extinguishing systems?
Our specialists will be happy to assist you.