Stingere cu spuma
Stingere pentru medii cu potential exploziv
Sistemul de stingere cu spuma este folosit pentru protejarea zonelor in care sunt depozitate sau utilizate substante lichide inflamabile, produse din plastic sau din cauciuc. Spuma de stingere reprezinta un agent de stingere eficient, alcatuit din apa, spuma si aer. Spuma poate avea diferite grade de infoiere (spuma de mare infoiere, spuma de medie infoiere si spume de joasa infoiere) in functie de nevoi si de caracteristicile zonei care trebuie protejata.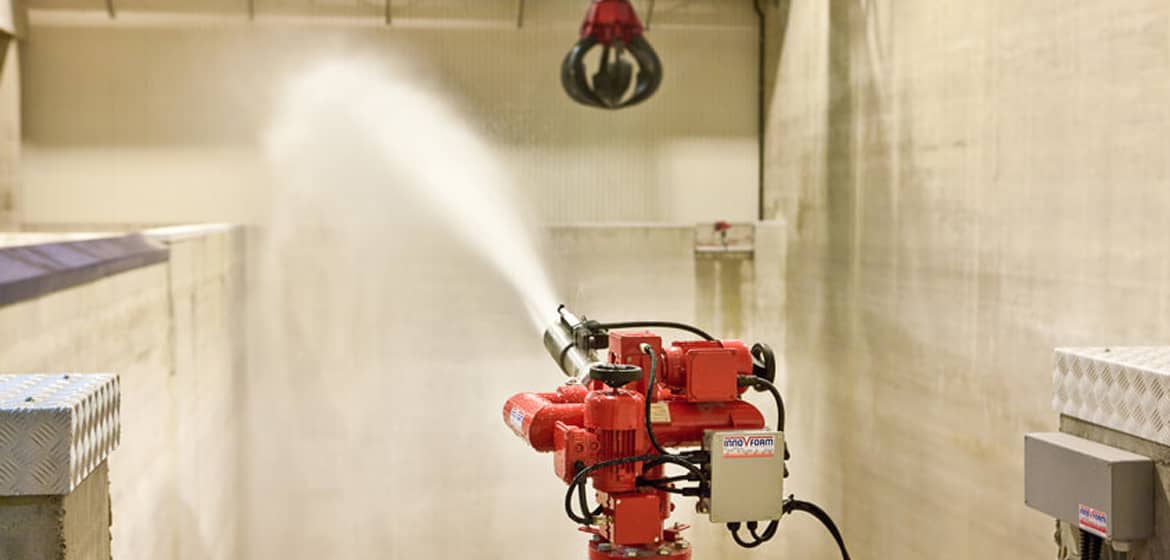 Stingere eficienta
Rolul spumei este de a opri incendiul prin inundarea sursei alimentarii focului. Spuma formeaza un strat solid ce acopera materialele inflamabile, iar acest lucru genereaza un efect de racire, separare si suprimare in functie de tipul de spuma. Aceasta izoleaza flacarile de oxigen, reduce extinderea gazelor toxice de ardere si capacitatea de combustie. Astfel, reactia chimica este oprita, iar focul este stins.
Principiul de functionare a sistemului de stingere cu spuma este unul facil. Componentele stingerii cu spuma sunt cele trei elemente esentiale: apa, spumantul concentrat si aerul. Prin premixare, spumantul concentrat din recipientul de stocare se amesteca cu apa provenita de la grupul de pompe, iar apoi este distribuita prin intermediul unui sistem de conducte catre generatoarele de spuma, tunurile de spuma sau sprinklere. Astfel, prin producerea spumogenului, spuma va stinge incendiul si va impiedica reaprinderea acestuia.
Tipuri de instalatii de stingere cu spuma
Compania noastra poate furniza toate tipurile de instalatii de stingere cu spuma: fixe, semifixe si mobile. Instalatiile fixe reprezinta instalatii la care toate componentele sistemului de stingere cu spuma sunt instalate permanent. Instalatiile semifixe de stingere cu spuma sunt acele instalatii la care solutia de spuma este eliberata prin conducte si duze instalate fix,  in timp ce spumantul concentrat si apa sunt furnizate de dispozitive mobile actionate de personal specializat.
Instalatiile mobile au toate componentele mobile ( portabile si/sau transportabile ) si sunt manevrate, amplasate si directionate de catre personal specializat.
Leading equipment and technologies
Pentru furnizarea sistemelor de stingere cu spuma compania colaboreaza cu InnoVfoam. Gama de echipamente acopera solutii precum stingere cu spuma fara fluor, roboti de stingere cu spuma, instalatii asezate pe trailere, instalatii pentru tavane.
Full services. Turnkey projects
For Fire Detection by Aspiration, DEFLAMMO offers a full range of services: Consulting, Design, IGSU Authorization, Equipment supply, Installation, Programming, Maintenance and Technical Support.
Reference works
De-a lungul timpului, compania noastra a implementat numeroase proiecte de Protectie la Incendiu in diverse domenii de activitate, dintre care putem enumera: Universitatea Politehnică București – Campus,  Universitatea Politehnică București – Precis, Universitatea Titu Maiorescu Bucuresti, Aurora Shopping Mall, Galeria Mall Buzau, Galeria Mall Suceava, Mega Image, ParkLake Shopping Center Bucuresti (peste 11.000 de elemente), Expo Business Park Bucuresti, Floreasca Business Park Bucuresti, Hermes Business Campus, Multigalaxy, Nusco Tower, Iulius Town Timisoara, Unirii View, Liberty Galati, Odu Sibiu, Sofidel  Calarasi,Wenglor Sibiu, CF. Falciu, CF. Vicsani.
On the same topic
Doriti mai multe informatii despre sistemele de stingere cu spuma?
Specialistii nostri sunt bucurosi sa va ajute.