Stingere cu Ceata de Apa
Stingere rapida si eficienta
Stingerea incendiului se realizeaza datorita efectelor de racire si reducere a continutului de oxigen pe care le are ceata de apa asupra focarului. Acest sistem are la baza racirea suprafetei cu ajutorul particulelor de apa pulverizate prin intermediul unui cap de difuzie, tip sprinkler sau drencer. La o temperatura prestabilita, pulverizatoarele se deschid automat si elibereaza particulele de apa ce formeaza o ceata. In plus, pe langa efectul de racire, sistemul de stingere incendiu cu ceata de apa creeaza un strat protector de vapori de apa care opreste alimentarea cu oxigen a zonei incendiate.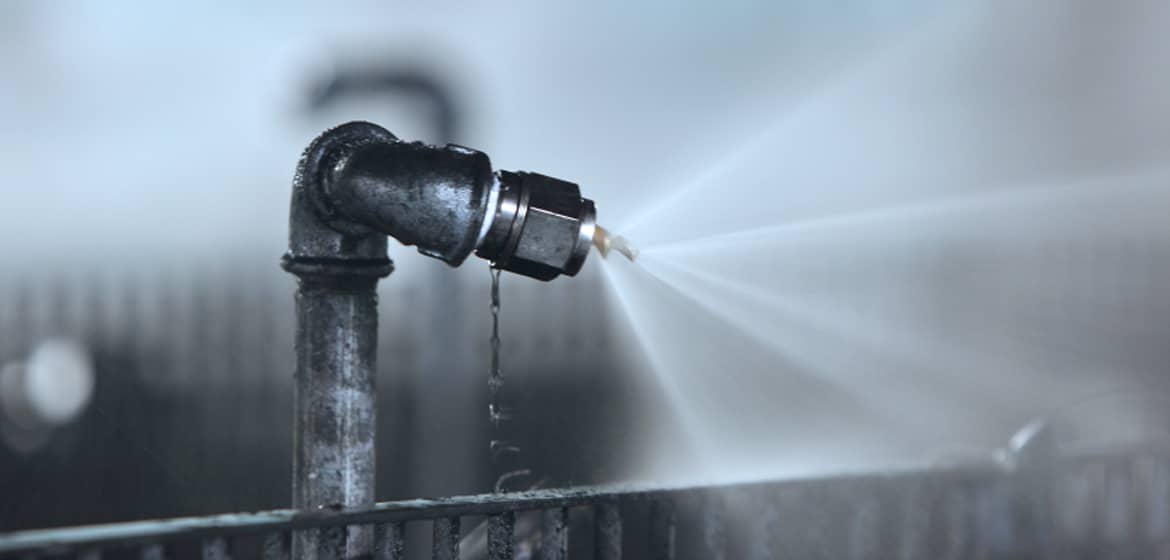 Sistemul de stingere incendiu cu ceata de apa este eficient in spatiile in care exista echipamente sub tensiune, deoarece in astfel de spatii nu pot fi folositi agenti conductivi precum apa si spuma. In plus acesta poate controla incendiile generate de lichide inflamabile.
Full services. Turnkey projects
Pentru Stingere cu Ceata de Apa, DEFLAMMO ofera o gama completa de servicii: Consultanta, Proiectare, Autorizare IGSU, Procurare echipamente, Instalare, Programare, Maintenance and Technical Support.
Reference works
De-a lungul timpului, compania noastra a implementat numeroase proiecte de Protectie la Incendiu in diverse domenii de activitate, dintre care putem enumera: Universitatea Politehnică București – Campus,  Universitatea Politehnică București – Precis, Universitatea Titu Maiorescu Bucuresti, Aurora Shopping Mall, Galeria Mall Buzau, Galeria Mall Suceava, Mega Image, ParkLake Shopping Center Bucuresti (peste 11.000 de elemente), Expo Business Park Bucuresti, Floreasca Business Park Bucuresti, Hermes Business Campus, Multigalaxy, Nusco Tower, Iulius Town Timisoara, Unirii View, Liberty Galati, Odu Sibiu, Sofidel  Calarasi,Wenglor Sibiu, CF. Falciu, CF. Vicsani.
On the same topic
Doriti mai multe informatii despre sisteme de stingere cu ceata de apa?
Specialistii nostri de la dispecerat va stau la dispozitie.